Are you a transporter and want to be on this list?  Click here to be connected to the "Contact Us" page and submit your request.  We look forward to hearing from you!


​​(Transport Company, State, Owner, Email)   ​​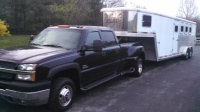 Horse transporters who are available for your particular needs will reply directly to you with their price quotes.  When you start receiving quotes, come back here to compare each company's listings on the horse transportation company page.  Be aware that horse transporters would need separate cargo insurance to cover your inanimate objects.
If you should receive a quote from a transporter that is not on this list, please contact us by email to report this quote.  We take pride in providing excellent transporters.  If they are not on this list, there may be a good reason.​​